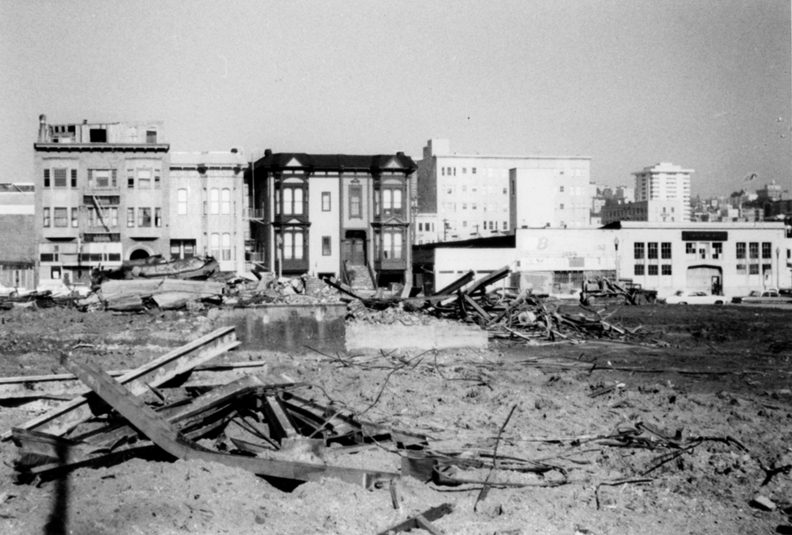 I had a few thoughts while reading a book called "San Francisco: Then & Now," which shows past and present pictures of SF landmarks and neighborhoods. Of course you know the Golden Gate Bridge is gonna be in there, plus Fisherman's Wharf, Transamerica Pyramid, etc. I wanted to look for residential neighborhoods but could only find the Marina, Telegraph Hill, Nob Hill, and the Sunset. When reading about the Sunset the book said the alphabetic street names (Anza, Balboa, Cabrillo, etc.) were all named after Spanish colonizers, meaning the people who stole those very same lands and murdered and enslaved the population living on them. I will always think about that whenever I drive through the Avenues from now on.
To me, gentrification is colonization. Not to lessen what the Indigenous went through, but I think SF locals can identify with being forced out of your homeland and watching a conquering race/class take over the land while appropriating your culture and directly benefiting from your hard labor.
Another action colonizers take is wiping out the history of the people being colonized. Looking back at this book that mentions almost no working-class areas, I realized that our neighborhoods have never really been included. Based off the pictures in this book, it would be easy to assume that only white people live/lived in SF. There was a small blurb about Fillmore's jazz history but what about the proud dockworkers that settled Bayview/Hunter's Point, or the diverse artists and musicians of the Excelsior? Actually I'm having a hard time thinking of other historical facts about these neighborhoods because, come to think of it, they've never been taught to me!
I recall an article in Huffington Posts about black business leaders boycotting San Francisco because black residents are being shut out of the tourism industry. I read the comments and saw things like "Why would anyone want to go to black neighborhoods in SF?" or "They're too dangerous for tourists to visit." Yet Chinatown is full of poor folks, and definitely has a history of gangs, crime, and violence, but is still one of the biggest tourist draws in the city. Perhaps being able to benefit from worldwide tourism has allowed Chinatown to gain more economic power and prosperity, while also shaking the same stigmas as other Asian/black/Latino neighborhoods. If our history and our value is unknown or unacknowledged, then I guess it's on us to document and tell our own histories in our own way. We have to show these yuppies, hipsters, tourists, corporations, and greedy politicians that we have always played a crucial role in this city and that our culture and history is beautiful and deserves to be recognized.
One final thought. When looking at a picture of Golden Gate & Taylor (off Market St) from 1922, I saw well-dressed white folks walking to and from local shops and businesses. Now that same intersection is part of the Tenderloin and swarming with drug addicts, dealers, and struggling businesses. It's also being heavily gentrified right now as part of Mid-Market redevelopment. Crazy how once neighborhoods become populated with poor people of color, they are neglected, flooded with drugs (crack dealers do not own planes), and given a bad reputation. To me it seems like the people of these neighborhoods are made to die a slow, institutional, systemic and social death. As they are being neglected, the rich make plans bulldoze over their lives and legacies to build new housing and businesses that those poor people would never have been able to afford. It's very likely that 2022's picture of Golden Gate & Taylor might also feature well-dressed white folks enjoying successful local businesses without a poor person in sight.
As I get more and more involved in the struggle against gentrification I realize how important it is to document all this information and make it readily-available. This is still a fairly new, developing issue and not everyone has access to the facts. Maybe I will write a book of my own. I don't want to look at an SF history book in 20 years and see that our struggle to maintain our housing and our culture has also been swept under the rug.